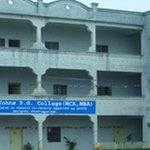 St John PG College
Hyderabad, Andhra Pradesh
St.John's P.G College sponsored by the St.John Education Society Sheriguda, Ibrahim Patnam was established in the year 2001. The society has a firm standing in the field of education for the past 6 years. It has established institutions right from Computer Sciences and Management in Post Graduation disciplines under the Chairmanship of Sri Jeevan Reddy Nandineeni.
The college has commitment to impart quality education in the Computer Sciences and Management areas. The college is situated near to Hyderabad city and surrounded by its beautiful scenery and peaceful atmosphere. It is facilitated with spacious class rooms and adequately equipped laboratories. The college from its beginning runs with adequate, qualified, hard working staff and the management is keen in recruiting most efficient staff.
The staff works efficiently under well experienced professors. The topmost priority at St.John's P.G College is for its students. A wide scope is awaiting for the student community in this College. An ample care is taken for the over all personality development of all the students to face the future. The students are exposed to the different situations to improve their caliber. Students are rewarded for their best performance in internal exams, seminars, industrial tours, essay writing, sports and games, etc. St.John's P.G College is affiliated to Osmania University, approved by A.I.C.T.E having academic schedules according to the university.
Courses
Information Technology
1 Course
Trending Colleges Near Hyderabad