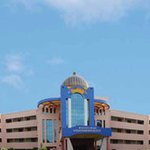 St Martin Engineering College
Hyderabad, Andhra Pradesh
Rapid advances in the area of Science and Technology has revolutionized the life style of common man.Science & Technology is no more confined to the four walls of Research Labs but has invaded our houses and lives.In this scenario,it is evident that trained professionals are needed to man different units.In the past the limited number of seats in Engineering led to a mad rush.Now,with the opening of many new engineering colleges,the focus is shifted to the choice of right college
St.Martin Engineering College was established during the academic year 2002 with the approval of AICTE, New Delhi and recognised by Government of Andhra Pradesh. The institution is affiliated to J.N.T.U., Hyderabad.
SMEC is one of the best Institutions that started in 2002.Our motto is to impart quality education to the best satisfaction of the students in technical education.Being an ISO 9001:2000 certified college, we practice and follow the standards and procedures strictly
SMEC has a caring Management which is interested in developing the institute into a center of excellence. It has dedicated, experienced and motivated faculty and skilled non-Teaching Staff. Students of SMEC are disciplined and faculty teach them in not just a routine manner but make them to strive hard with an exercise to instill values and skills needed to make topnotch careers . It has good Infrasture ,well equipped laboratories , good library and has internet facility.
Trending Colleges Near Hyderabad