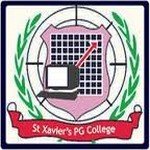 St Xavier PG College
Hyderabad, Andhra Pradesh
St. Xaviers is an innovative institute committed to developing programs designed to equip students with the knowledge and skills needed to succeed in the"globalized competitive world", As Higher education to day has the challenge and responsibility of preparing a new breed of creative and dynamic professionals who have the courage, skills and foresight to take the challenges of tomorrow. In this context our motive is to provide an excellent and inspiring learning environment and train students to "Learn to Succeed".
With this objective St Xavier P.G.College came into existence in the year 2001, being sponsored and supported by St-Xavier's educational society. It is approved by AICTE and is affiliated to Osmania University for it MBA Programme with an annual intake of 180 students.The Institution is based in Hyderabad which is a lively and vibrant city. The city has all the facilities and entertainment a student needs - excellent shopping malls, restaurants, clubs, sports facilities and a thriving cultural scene. If you want a break from the city life, Hyderabad has numerous parks and places of outings within easy range. The city attracts students with a wide variety of backgrounds, interests and age ranges, and from all types of educational institutions and employment.
Source: http://stxavierspgcollege.com/
Address
Survey No: 155 & 156, Gopan Pally, Near Hyderabad University Serilingampally Mandal, R.R.Dist.
---
Connect
040-65271460
Courses
Information Technology
1 Course
Trending Colleges Near Hyderabad