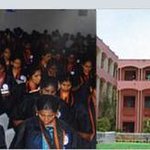 Stella Matuitina College of Education
Chennai, Tamil Nadu
Stella Matutina College of Education, under the Management of the Franciscan Sisters of the Presentation of Mary was established in July 1961.
The main aim of this Teacher Training College is to promote excellence in the sphere of teacher education. The college undertakes to prepare teaching personnel who are intelligent, social minded, spiritually vigorous, vocationally prepared and committed to the cause of quality education.
Bearing these aims in mind, the college offers programmes for the all round development of the personality of the teacher. The teacher trainees have immense opportunity to exhibit and develop their talents, oratory, writing, sports, singing, dancing and other aesthetic and creative pursuits.
Courses
Trending Colleges Near Chennai