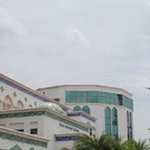 The New College
Chennai, Tamil Nadu
"Established in 1951, The New College is sponsored by the Muslim Educational Association of Southern India, a premier institution which has been endeavouring, since 1902, to lift the members of the community out of their educational backwardness and give them the benefit of higher education.
The New College has progressively developed into one of the leading institutions of higher education offering instruction in 23 courses in Humanities, Science and Commerce at the Under graduate level and 15 courses at the Postgraduate level.
The College has on its rolls about 2200 students in the Day College and about 2800 students in the Evening College .Though primarily established for providing higher education to Muslim students,its doors are open to deserving students from other communities.Deeniyat classes are conducted during college hours for muslim students and moral instruction classes for others with a view to inculcate moral and cultural values in them.
The college celebrated its silver jubilee in March 1978. The centenary celebrations of the MEASI and the Golden Jubilee Celebrations of the College were held in January 2002 and the latter concluded in March 2002.
To mark the successful completion of 50 years in the field of Education and Community Development, the parent body MESAI has constructed a multi crore complex to accommodate all Post Graduate courses in Computer Science and Information Technology.This new building is provided with the latest electronic equipment and the relevant infrastructure.
The College was Re-accredited by National Assessment and Accreditation Council (NAAC) IN September 2010 and placed at A Grade.Besides, the college was accorded autonomous status by the U.G.C. in 2006-07 and thus the college became autonomous from the academic year 2007-08.
The various courses introduced in the college will give an insight into the sustained and zealous efforts of the successive office bearers of the Association and its well-wishers in the cause of higher education and also the great-strides made by the institution since its inception.
An Islamic Study Center attached to the college seeks to cherish spiritual values of life and imparts formal teaching in religion to Muslim students during college hours. Thre is a mosque attached to the college where prayers are conducted five times a day.
Under co-curricular activities, we have in addition to the College Union and other Sectional Associations, facilities for training in National Cadet Corps., Sports and Games and National Service Scheme. The wholesome benefits of residential academic life are accessible to every inmate of the New College Hostel.
For more information on MEASI, the governing body of the college, its activities, the Faculty of the College, the courses offered, the fee structure,the career improvement and the placement facilities available,the infrastructure etc..,log on to www.thenewcollege.in
Courses
Information Technology
1 Course
Physical Sciences
2 Courses
Trending Colleges Near Chennai