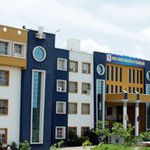 Vidya Jyothi Institute of Technology
Hyderabad, Andhra Pradesh
Founded in 1998 by a group of concerned academicians and enterprising educationists, VJIT quickly won the confidence of the parent community and the students to become one of the select destinations for future engineers. Soon the lamp of knowledge began to spread the light far and wide.
VJIT is closely located in the picturesque surroundings of the cool and breezy Osman sagar lake on one side and the serene and peaceful Chilkur temple, the abode of Lord Balaji, on the other.
The governing board of VJIT is a combination of experience and management skills, supported by a team of dedicated and highly successful faculty.
The college is accredited by NBA of AICTE. The college has best academicians as its Heads.
The college has very senior people in its rolls and lends their guidance, it has become one of the practical engineering college in the region. The model room housed the live projects done by its students is a showpiece of their interest and involvement.
The infrastructure of the college is on par with best in India. The academic results are more than 95% and placements are more than 75% at any given point of time.
Source: http://vjit.ac.in/college
Trending Colleges Near Hyderabad