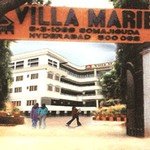 Villa Marie College For Women
Hyderabad, Andhra Pradesh
Villa Marie College is located in the heart of the city Hyderabad at Somajiguda. Three latin words that convey the philosophy of the institution are, "Villa Visie Vista" - Social Values , Individual Development and Value Education are the primary objectives.
Villa Marie is An Institution With A Difference. A walk along the corridors is an education in itself. Well equipped science labs, a library with a good collection of study materials and reference books, a tastefully designed seminar Hall & Media Research Center are a Boone in itself. Lavish and purposely designed computer labs and a cafeteria for the students, all make Villa Marie stand eons ahead of other institutions in terms of quality education, facilities and infrastructure.
One can pursue education in any discipline of one chosen field, be it Life Sciences, Pure Science, Commerce, Economics, Computer Applications, Management Studies and Mass Comm & Journalism. A student joins at the Intermediate level and emerges with a Post Graduate Degree.
The secret of being a pioneer is in staying ahead. The College is constantly in the process of upgrading and implementing the latest methods of imparting education.
Villa Marie Degree College For Women is ranked as No:1 in the Osmania University for Consistency and Excellent performance in all courses. The college takes great pride in implementing the latest teaching methodology by using LCD/Smart Boards and online teaching for all commerce, sciences and media studies.
With the introduction of a commerce lab teaching of subjects like Banking, Management, Auditing is made interesting and more practical to the students. The media study and research centre offers students facility to script, edit, create and project their own documentary films.
Courses
Information Technology
1 Course
Physical Sciences
1 Course
Trending Colleges Near Hyderabad