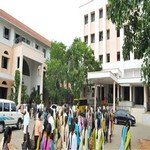 VLB Janaki Ammal College of Arts and Science
Coimbatore, Tamil Nadu
VLB JANAKIAMMAL COLLEGE OF ARTS AND SCIENCE established in 1991 has steadily grown into a well established highly reputed institution of higher learning. It is commited to the pursuit of academic excellence.Therefore it continuously strives to produce young graduates and post-graduates of merit in the fields of Arts,, Science, Commerce and Management. The students of the college secure prestigious ranks in the Bharathiar University examinations every year.
In 2004-05 examinations 22 ranks, 2005-06 examinations 21 ranks and 2006-07 examinations 23 ranks have been secured by our students. The college, located in Kovaipudur, is 8 km from Coimbatore Railway Station, 12 km from the Central Bus Stand and 18 km from the Airport and is well connected by buses.
The college has its own sprawling campus area of 24.115 acres and 1,54,918 square feet built up area. Two blocks of three storied building and a third block of a four storied building house 17 departments offering quality education to 3105 students. There are 132 teaching staff and 40 supportive staff. This institution develops under the leadership, guidance and counselling of Mrs. Malarvizhi Vankatram, Chairperson and Managing Trustee of VLB Trust with Dr. K. Palaniappan as the Secretary, Dr. L. S. Ranganathan as the Principal and 132 devoted, qualified and committed staff.
Trending Colleges Near Coimbatore