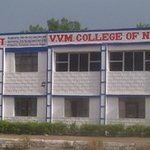 VVM College of Nursing
Bhopal, Madhya Pradesh
Vihsal Vate Memorial College of Nursing (VVM), Bhopal is affiliated to Barkatullah University, Bhopal. The college provides the educational environment for Nursing majors enrolled in general academic or clinical courses.
VVM College of nursing is not only going to prepare the nurses for giving a basic care to patients but also to prepare a model of health, which may have its own image in the form of modern graduate nurses.
The college is recognized by Indian Nursing Council (INC) New Delhi Which is the statutory body under Government of India to decide standards and norms for nursing courses and by the Mahakoshal State Nursing Council Madhya Pradesh and Department of Medical Education, Government of Madhya Pradesh.
There vision is an innovator and pacesetter in the educational preparation of individuals in nursing and clinical courses. There mission is through excellence in accessible undergraduate, graduate, and continuing education programs designed to assist individuals in achieving their professional goal as responsible and contributing members of a chosen profession and of society.
Source:http://campus.yahoo.com/institute/info/vihsal-vate-memorial-college-nursing-vvm
Courses
Trending Colleges Near Bhopal