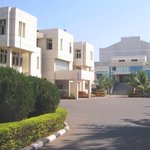 Xavier Institute of Management
Bhubaneswar, Orissa
The Xavier Institute of Management, Bhubaneswar owes its origin to a Social Contract between the Government of Orissa and the OJS (Orissa Jesuit Society). The Management of the institute is in the hands of a Governing Board, consisting of representatives from the Jesuit Society, Government of India, Government of Orissa and eminent industrialists and educationists.
Since its inception in 1987, Institute has heen offering quality management education with a human face. During this short span of its existence, XIM has established an identity of its own, and it is getting to be known not only for its Post-Graduate Programmes but also for projects usually not found in management institutions in India or elsewhere.
XIMB has focused on quality and rigorous education, academic infrastructure, technology and innovation. All these efforts have paid rich dividends - XIMB is among the best B-Schools in the country.
XIMB is one of the most Technology intensive campuses in India. The campus network is based on a fibre optic backbone and 100 MBPS Ethernet technology. It is also supported by the latest Wi-Fi technology. A vibrant Intranet and rich information resources and rich set of software tools and services make our campus a fertile ground for grooming managerial talent.
To strive for excellence in all its endeavors namely teaching, training, research and consultancy, consistent with global standards, to remain committed and accountable in all its functions and processes and to achieve continuous improvement through interactive feedback and self-evaluation.
The faculty, the students and the administration of XIM, contribute to the building up of an organisational culture, marked by esprit de corps, confidence, mutual respect, concern for others' needs, hard work, social values, personal maturity and integrity. Such a culture need not necessarily be elitist. XIM likes its students to feel at ease, in dealing with common people, the carriers of development and progress.
There is a regular flow of visitors from all sectors. We are happy to welcome Chairpersons, Managing Directors, top and middle level executives from corporate sector, foreign experts, as well as NGOs, villagers and youth leaders to visit our campus in our regular courses and Management Development Programmes as well as the various training programmes at the Centre for Development Research and Training (CENDERET).
XIMB offers four programmes in management education addressing distinct audiences using innovative formats and delivery modes. PGP is our classic full-time 2-year programme meant for young students with zero or little experience. PGPRM is a full-time 2-year programme focusing on rural management. ExPGP is a part-time 3-year programme meant for working executives using a very unique format of delivery. PGCBM is a certificate programme meant for working executives using technology for delivery.
XIMB also provides training and consulting services to the corporates. Our new MDP residence and training center are a proof of our commitment to provide continuing education to the working executives.
Our strong domain knowledge in the fields of education and rural development and software development skills have led us to develop software products. Academic Information System (AIS), Project Accounting and Monitoring System (PAMIS), Internet based Survey (iSurvey), Examination On-Line (EOL) are some of the products we offer.
Apart from imparting management education, XIMB provides training, action research and consulting services in the field of development.
Whether you are an MBA aspirant, a recruiter of MBA student, an executive looking for a MBA qualification, training or consulting, you will find XIMB has something to offer.
Source: http://w3.ximb.ac.in/about-us
Trending Colleges Near Bhubaneswar