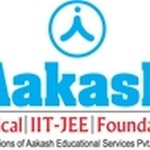 Aakash Institute Medavakkam
Chennai, Tamil Nadu
The basic structure of the Institute is firmly built on a highly professional faculty comprising of a perfect blend of IITians, Engineers, Doctors, PhDs, MScs, eminent academicians and proven experts of respective subjects. Faculty members, who are working with Aakash have been selected and trained properly to make them confident enough for efficient teaching. Irrespective of a teacher's past experience and qualification, each teaching candidate is put through a written test, followed by a lecture demonstration to our HODs and finally on clearing these rounds, a final round of interview is done with the Managing Director. After selection, the newly appointed teachers are put through a rigorous training regime to sharpen their skills and mould them into the Aakash culture of teaching. As they start teaching, their newly imparted training, their qualifications and prolonged experience provide the students with guidance and coaching of unmatched excellence. The most complex problems are simplified to the easiest grasping level.
At Aakash, to offer its students the most qualitative learning is not only a commitment but also a challenge to be met. The teachers at Aakash are its real assets. They are the specialists in their subjects. Being the torchbearers, they feel that success is not the exclusive domain of a chosen few; in fact, every student has the potential to succeed, and this has to be brought to the forefront through the sustained hard work of the student and the appropriate guidance. The magnificence of a pearl can only be appreciated when it has been prized out of the oyster and polished to perfection.
Our students are excelling largely due to the faculty's unique teaching methodology, commitment and dedication. Under their guidance, if a student secures below than average marks in the tests, the faculty finds out why and plays a role of a mentor and a guide to them so that they can improve. All doubts of students are cleared and concepts are made crystal clear to them. Regular workshops are also held for the teachers to ensure that their teaching methods and subject knowledge are always up to the mark. Constant updating is required in view of the highly competitive environment that the students have to face.
Teaching Methodology
Individual

Classroom

Online

Address
No: 5/391, Medavakkam High Road, Ranganathapuram, Medavakkam, Chennai.
Course Information
Entrance Exam
Joint Entrance Exam Advanced
Admission Process
First Come First Serve
Batch Timings
Multiple Batches
Aakash Institute Medavakkam Also Coaches For
People who viewed this Tutor also viewed