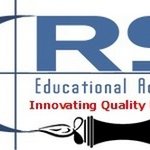 CRS education Academy Gawade Park
Pune, Maharashtra
CRS Educational Academy is a structured institution complete in all aspects which provides quality guidance for Academics and Competitive Exam whose sole motto is to provide quality education with care, guidance and inducive atmosphere.
CRS Educational Academy team comprises of highly knowledgeable and experienced teaching experts. It has unique method of teaching in which easy techniques, timely completion of syllabus and stressing on vital areas is accompanied with well planned test series and regular assessment of performance through regular unit test during classroom teaching session.
They actually started to make a difference in the way Students think and approach problems. It was the urge, the compelling desire, to always aspire for perfection and in the process, continuously keep on setting newer benchmarks of excellence, which enabled us and our Students to achieve what we have achieved.
CRS has become a centre of excellence in guiding student through various Government Job Exams. It has a track record of having the best success rate in the industry for past 4 years. We aspire to be one of India's best coaching and training centre. What distinguishes 'CRS Educational Academy' from many other similar institutions is its foundation value of keeping in mind the student benefit as the vision of all its activities to the exclusion of all other considerations; so that courses are "student-centric" having been designed in a way that heightens student interest and participation.
Teaching Methodology
Individual

Classroom

Online

Address
Gawade Park, Near Tax Collection Building, chinchwad, Pune