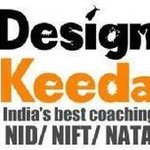 Design Keeda Santacruz
Mumbai, Maharashtra
Our key to success includes the commitment to quality by every person who is a part of the team. Each of us is responsible to push ourselves to a higher level of professionalism in every sphere.
In an ever changing, fast-paced world, success is determined by good choices for lasting effects. Design Keeda under the aegis of Wizbrainz International is a platform of design career enhancement and training, setup by International academics and design experts. Through Design Keeda we aim to provide professional career guidance, creating new development opportunities in the fields of Design, Fashion, Architecture and Management.
Taking this great deal, we have been traveling to various cities across India, conducting workshops and seminars on 'Design Career Guidance'. After making a mark in design career guidance and counselling, in its endeavor to serve the student community at large, Design Keeda launched its innovative design and architecture college entrance exam coaching programmes in Mumbai 8 years ago. Our objective is to provide quality education, knowledge, resource and training for design career management. We strive to be the best choice of students by helping to ease their design educational career planning burden.
Design Keeda commits itself to ensure a unique design learning experience and to impart actionable knowledge to the students through its innovative instructional methodology backed by unique andragogical inertia. We shall continually endeavor to nurture academic excellence through multilateral cohesiveness in order to make quality design college entrance coaching more accessible to all; thereby equipping our students with cutting edge competencies necessary to crack the various entrance exams. Design keeda strongly advocates a paradigm shift in academic delivery by focusing on andragogy and not the conventional pedagogical way. We follow a well-grounded amalgamation of formal, interactive, customized and experiential methods to impart an intellectually-induced, creative learning experience to the students. With its focus on andragogy and innovation-driven teaching aids Design Keeda is actionably redefining design college enterance coaching as a constructive stimulant of professionalism and not merely a knowledge upgrading process.
Teaching Methodology
Individual

Classroom

Online

Address
44 & 45, Ground Floor, Dheeraj Heritage, Milan Signal, S.V. Road, Santacruz West, Mumbai
Course Information
Entrance Exam
Admission Process
First Come First Serve
Duration
Less then 3 Months
Batch Timings
Multiple Batches
People who viewed this Tutor also viewed