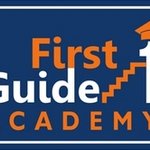 First Guide Academy RajaRajeshwri Nagar
Bangalore, Karnataka
First Guide Academy is a reputed and admired name in the field of fostering academic excellence in students with centres in 15 different locations strategically located across Bangalore. With a myriad of courses including those for students in Grade V to those for preparing students for NEET and JEE Main, First Guide Academy has been coaching and mentoring students to excel in their chosen stream of studies. Just browse through the facilitations that First Guide Academy offers and you will be able to appreciate the versatility that we possess.
With dedicated faculty and an amiable environment which encourages students to ask questions and seek answers, students are inspired to achieve academic success. Sticking to the curriculum, we have integrated innovative learning and facilitating techniques that make learning fun and studying an enjoyable experience.
Source: http://firstguideacademy.com/
Teaching Methodology
Individual

Classroom

Online

Address
No: 480, 60feet road, BEML 3rd stage, Rajarajeswarinagar, Opp. Food World, Banagalore – 560298.