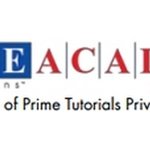 Prime Academy Nashik
Pune, Maharashtra
To succeed in today's world of cut throat competition, one must have a special strategic approach, well guided by experts. Prime Academy, a Division of Prime Tutorials Private Limited, is a pool of such experts, driven by IITians who have a vast experience.
Prime keeps on pumping students into the IITs and has made highlights with 60 students cracking IIT in 2012. Subsequently Pune became an IIT HUB and Prime Academy, the gurukul for young engineering aspirants. A healthy amicable relationship among the staff members of Prime Academy not only helped us retain the core team but also attracted top-notch faculties from other institutes. As a matter of fact, 70% of the students who cleared IIT from Pune in the last 5 years, were taught by Prime faculty members. Here the mantra of 'by IITians for aspiring IITians' could be heard loud and clear. Students from Prime have bagged many medals in various Olympiads and cleared the final rounds of exams like KVPY, NTSE and MTS, etc.
In Marketing, it is often said, "First time, a good salesman can sell dirt as gold, but the second time, it is the quality of the product, which sells". Our fair HR policies ensured continuity of our core faculty team which helped students/parents gain confidence in us. Subsequently the extremely good word of mouth helped us keep away from unnecessary marketing/publicity and we could focus just on core academics.
With a teaching experience of several years, we have developed the expertise and methodologies required to generate confidence among students to excel in competitive exams. We constantly update our method of teaching to keep students abreast with the changing exam pattern. After establishing strong roots in engineering, Prime launched a Medical coaching program in 2013.
With great pride we can boost of a very strong alumni network as all our students remain closely attached with Prime, even after passing out and they regularly visit us to share their first hand experience and to motivate current students.
The success rates of our students and their feedback endorses our excellence.
Teaching Methodology
Individual

Classroom

Online

Address
2nd Floor,Luthara chamber Near Don Bosco School, College Road, Nashik.