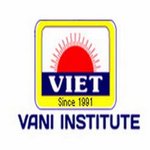 Vani Institute Jaya Nagar
Bangalore, Karnataka
Vani institute (viet) was established in the year 1991 at Hyderabad spreading its wings to all branches of Engineering and to the city's of Bangalore, Pune, Chennai, Kochi, kolkata and Bhubaneswar.
Vani institute initially started coaching for AMIE gaining a good reputation it then started coaching for GATE. this is the only institute in south india which started coaching for GATE in all branches for the first time. vani institute (viet) has been offering excellent coaching for GATE, ESE,JTO and other competitive examinations. the main strength of organization is the faculty and in particular the team work by one and all.our main aim is to train the students in the classroom to build the best career. Vani institute is for the commitment of quality in education as to bring out the best among best.
Vani Institute is a top and best GATE / IES coaching centre in bangalore. Vani institute is well known for their unique training system where they concentrate on training both the merit students and also the students with average academic background. Vani Institute has experienced faculty which provides result oriented coaching to their students. Faculty in Vani Institute focus on providing In-depth knowledge of the subject and competitive development which helps students to be a step a head in the competitive world. Vani Institute also provides personality development classes to motivate and build the confidence levels of the students.
Souce:https://www.vaniinstitute.com/gate-coaching-bangalore.html
Teaching Methodology
Individual

Classroom

Online

Address
Jaya Nagar, Banglore