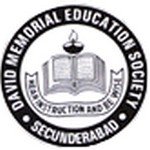 David Memorial College of Education for Women
Hyderabad, Andhra Pradesh
David Memorial Education Society was founded in the year, 1968 in the memory of late Dr.R.David, (Retd. Medical Officer Government of Andhra Pradesh).
In June 1968 David Memorial School, Rashtrapathi Road was started with 19 students and teacher. In 1969 David Memorial High School, Tarnaka was started with 15 children and 2 teachers. There are now about 500 children and 25 Teachers. In 1972 three more schools were started at Picket, Warasiguda and Gandhinagar.
In July 1980 the Society started a Junior College for Girls under the name of Guruswamy Women's Christian Junior College as a token of gratitude to late Mr.N.K.Guruswamy , IAS (retd). The Society received permission in 1994 to start David Memorial Degree and P.G College with B.Com., & B.Sc., M.Sc., Courses.(Formerly known as Holy Jesus & Mary Degree College for Women).
In January 1994 permission was granted by Osmania University to start Holy Jesus & Mary P.G. College Computer Sciences offering 3 year P.G. Degree in Master of Computer Applications (MCA). The DME Society is registered under the A.P., Societies Registration Act 1350 F. This is a minority (protestant) educational institution. Though primarily it's a Christian Institution all students are admitted irrespective of caste or creed. This institution is recognized by the Government of Andhra Pradesh. However it doesn't receive any financial aid either from the Government or any other source. Hence it is completely self-financed & non autonomous. In 1997-98 David Memorial Institute of Management was started. The College is approved by All India Council for Technical Education and affiliated to Osmania University.
Courses
Trending Colleges Near Hyderabad