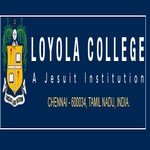 Loyola BEd College
Chennai, Tamil Nadu
Loyola College was founded by the Society of Jesus (Jesuits) in 1925, with the primary objective of providing University Education in a Christian atmosphere for deserving Students, especially those belonging to the Catholic Community. Although this college is meant primarily for Catholics, it admits other students irrespective of caste and creed.
The College aims at training young men and women of quality to be leaders in all walks of life, whom we hope will play a vital role in bringing about the desired changes for the betterment of the people of our country, more particularly of the dalits and other poorer and marginalized sections of society.
The College trains young men and women to serve their fellowmen in justice, truth and love. It fosters an atmosphere of intellectual vigor and moral rectitude in which the youth of our country may find their fulfillment and achieve greatness as eminent men and women of service.
Loyola College became autonomous in July 1978. The College, however, continues to be affiliated to the University of Madras and is autonomous, in the sense that it is free to frame its own course of studies and adopt innovative methods of teaching and evaluation. The University degrees will be conferred on the students passing the examinations conducted by the college.
Address
Sterling Road, Nungambakkam, Chennai - 600 034.
---
Connect
91-44-28178200
Courses
Trending Colleges Near Chennai