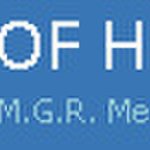 RVS College of Pharmaceutical Sciences
Coimbatore, Tamil Nadu
RVS College of Pharmaceutical Sciences (RVS COPS) was started in the year 1993 for the sole purpose of giving quality education to the leaders of tomorrow. The Rathinavel Subramaniam College of Pharmaceutical Science, Sulur, Coimbatore is a co-educational institution under the management of Rathinavel Subramaniam, son of Vijayashree - Dr. K.V. Kupusamy, the Chairman, R.V.S Educational Trust.
Over the past 14 years it has grown to become the biggest self-financing college in terms of students strength, offering U.G and P.G Courses in pharmacy. It is the endeavor of the institution to glow radiantly in every sphere of activity. The ISO 9001: 2008 awarded has added one more feather in the cap of RVS COPS.
Source:http://pharmacy.rvshs.ac.in/
Address
242–B, Trichy Road, Sulur, Coimbatore – 641 402.
---
Connect
0422-2687421
Trending Colleges Near Coimbatore