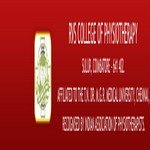 RVS College of Physiotherapy
Coimbatore, Tamil Nadu
The R.V.S COLLEGE OF PHYSIOTHERAPY a unit of RVS Institute of Health Science run by RVS Educational Trust was started on 2nd September with an annual intake of fifty students for it's under graduate program in Physiotherapy.
RVS College of physiotherapy functions efficiently with the Dynamic Principal and a team of dedicated faculty members. Our college imparts excellent training, and guides the candidates' face the clinical environment confidently.
Master Program with elective in Sports and Advanced PT on Orthopaedics was introduced in the year 2001. Ten batches of Bachelors Program snd four batches of Master program have been graduated from our institution since its inception.
RVS College of Physiotherapy is affiliated to the Dr. M.G.R. Medical University, Chennai. "The Indian Association of Physiotherapists" (Member of World Federation of Physiotherapy) recognizes our college.
Courses
Trending Colleges Near Coimbatore