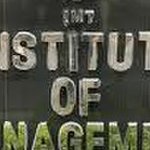 Shri Institute of Management and Technology
Nagpur, Maharashtra
India is indicating for strong economy and central Region can be the trigger of this growth. The industrial and economic
policies framed here, industrial associations meet, and CEOs evenings are all realities here and not media news. This can
be also one of the cultural convergence centers of India for both national and international. A location of such importance
is always an asset for exposure to the real life learning and developing national and global networking.
You are very well in reach to become an extraordinary personality, you need an extraordinary Institution. Management
Education in SIMT has brought atremendous aroma in the youth of the society to lead the global corporate chart. The
Institute respectfully seeks those who have a keen desire to become destiny- making business leaders.
Their association with us will strengthen our hands in our efforts to add value to human life in general and to business
world in particular. SHRI INSTITUTE OF MANAGEMENT & TECHNOLOGY (SIMT) was founded by "Jaivantabai Bahuudeshiya Shikshan
Santha" (Regd No. F/9479) under the act 29 of 1950, Govt. of Maharashtra. SIMT provides a transformational experience to
its students who are to maintain the highest standard of personal integrity, professional commitment and business ethics.
Life at the institute is a fantastic social experience which develops a sense of belongingness to the community among
students and makes cross-cultural interaction easier in their future lives. We take care to inculcate these values among
our students while shaping and sharpening their mindsets by the academic rigor of ourprograms. Due emphasis is placed on
exposing our students to real-life of the corporate world and facilitating interaction with the best minds in the industry
and with those who have helped achieve their missions.
Address
Block No. 04, Third Floor, J.B - Wing, Mangalwari Complex, Sadar Nagpur, Pin Code - 440001.
---
Connect
0712-6423125
Trending Colleges Near Nagpur